BlogFest 2010!!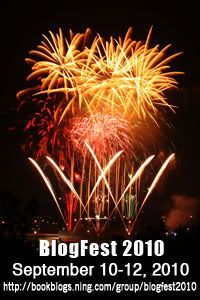 What is BlogFest 2010?
Oh, it's just a massive amount of book bloggers (over 250!) all having giveaways at the same time! All the fun starts at midnight on the 10th and ends at 11:59 pm on the 12th. For more information and a full list of participants head over to A Journey of Books.
Pretty cool, huh?
Let's get this party started ya'll! What are we giving away you ask? Hmmm…

I Am Number Four by Pittacus Lore
Take Me There by Carolee Dean *signed*
The Body Finder by Kimberly Derting *signed*
Blood Oath by Christopher Farnsworth *signed*
The Poison Diaries by Maryrose Wood
Wayfarer by R.J. Anderson
Insatiable swag (Meg Cabot) … and some fun TEXAS treats!
Just fill out the form below to enter our giveway, US only.
NOW CLOSED!
Oh, and there is also THE BIG GIVEAWAY…
Head on over to A Journey of Books and click on the Tracking Site link to the exclusive tracking site.  Once there you can register with a valid email address (to be used solely for the purpose of contacting the winner).  This site will allow you to track your progress through BlogFest 2010!  You can log on from anywhere at any time and continue where you left off.  The best part is that every blog that you visit and mark off through this tracking site will give you one entry into the massive giveaway!  We have a great collection of books, goodies and other swag that is looking for a new home!
Don't forget to check out the next stop on the party train, Authors by Authors!